Missouri free public records are drawn from different public agencies and include data such as criminal records, vital records, court records, and inmate records. The state has the mandate to provide its residents the right to access and scrutinize, and reproduce millions of free public records within the state's record systems.
A Missouri public record as stated in Mo. Rev. Stat. § 610.010.6 is defined as any document that is produced by a government agency, whether electronic or written.1
Such a large comprehensive data set will require much effort to locate information specific to an individual. Our goal here is to ensure that accurate free Missouri state records are retrieved in an efficient manner, thus taking out the intricacies of the process.
Missouri Free Public Records & Freedom of Information Laws
Missouri's Sunshine Law mirrors the federal Freedom of Information Act (FOIA) in that it ensures that Missouri public records maintained by government agencies are freely accessible to its citizens.
Therefore, in the state of Missouri, anyone from the public does have a right to access and check Missouri public records; moreover, no reason is required to be provided to access such said records unless the record has been made confidential. 
Missouri Criminal Records Explained
Missouri criminal records which include arrest records, are files detailing the criminal activities of arrested or convicted individuals. These records include details of arrests, pleas, dispositions, sentences, etc. Criminal records are also known as RAP (Record of Arrests and Prosecutions) sheets.
Missouri criminal records will typically include:
Mugshots
Arrest records
Warrant information
Conviction data
Inmate release date etc.
Can Anyone Request Public Criminal Records in Missouri?
Missouri public criminal records are in the public domain. The Sunshine Law mandates that state and local law enforcement agencies make public criminal records accessible to citizens.
There are some criminal records that are exempted from the public view, as in the case of juvenile records whose records are sealed by the court.
How to Find Criminal Records – Missouri
The Missouri State Highway Patrol has a criminal record search feature on its website that gives access to the public to execute a search and establish if someone has a criminal record. Requesters looking for Individuals that have been charged with a crime may also visit the Missouri Courts Casenet portal. Casenet doesn't charge for its service.
Missouri arrest records are public records as stipulated by the Sunshine Act. To find out if someone was arrested or is in jail in Missouri, requesters may utilize public access computers at the clerk's office at the respective local county court. A query will extract any arrest records in the court's database. Clerks of courts also have provisions for providing copies of criminal case documents upon request. Interested individuals may also contact the local sheriff's office or police station to request police reports to find recent arrests.
How Can I Look at Local Mugshots in Missouri?
When an individual has been arrested and taken into custody, officers will take the mugshots of the individual and place them in the arrest record; these mugshots also appear on inmate records and sex offender registries. Mugshots are public information in the state of Missouri.
Therefore, interested individuals looking to locate local mugshots will need to visit the local sheriff's office or police department and perform an inmate search. The search will return the arrest record or criminal record, which will include the photograph of the subject of the report.
As an example, Stone County Sheriff's Office maintains an inmate roster that can be accessed here. The roster contains arrest records that display mugshots. The Missouri Highway Patrol also maintains a criminal record search feature that allows individuals to query criminal records search; mugshots may also be obtained in this way.
How to See if You Have a Warrant in the State of Missouri?
A warrant in Missouri is a court order that empowers law enforcement officers with legal authority to arrest individuals or search private properties. There are different types of warrants in the state, namely:
Arrest, whether active or outstanding
Bench
Child support
Search etc.
Warrants are public records and may be accessed without any restrictions. Individuals interested in checking if there is a warrant out for an arrest in Missouri may do so by conducting searches in public records online or directly contacting the sheriff's office and local law enforcement agencies.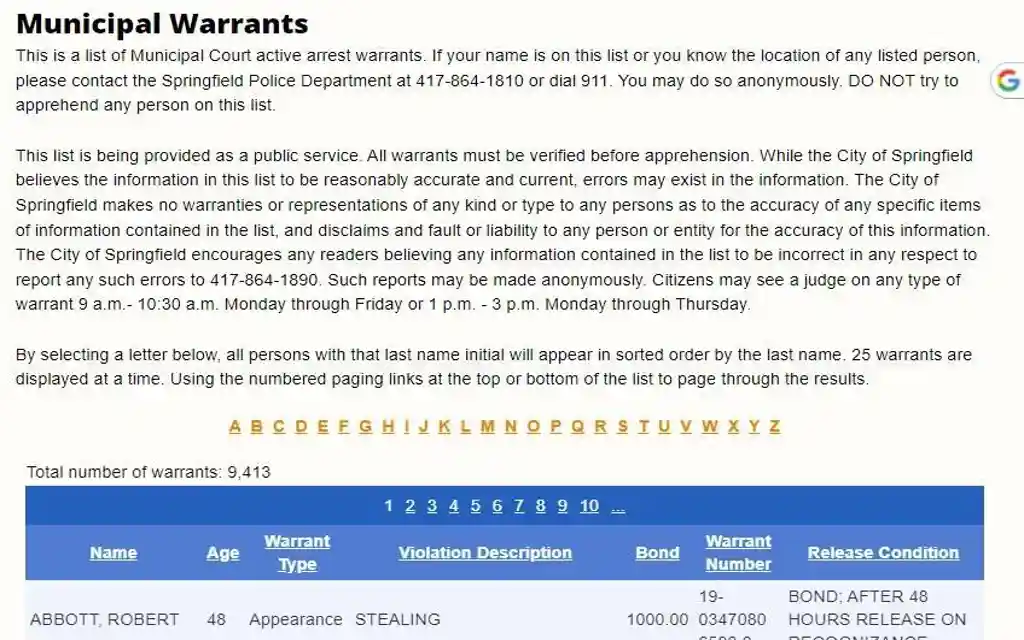 The court system in Missouri maintains a public database detailing warrants, court sentences as well as charges. A requestor may employ the database by entering the last name of the subject.
Alternatively, requesters may contact warrant departments of the local sheriff's offices to make inquiries. As an example, Springfield Police publish a list of individuals with Municipal Warrants.9 It would also be prudent to contact local law enforcement agencies directly to query information about warrants.
Can You See Juvenile Records in Missouri?
Juvenile criminal records are court documents that detail the criminal activities of minors who are below 18 years. In Missouri, juveniles are not tried as adults but have proceedings take place in juvenile court.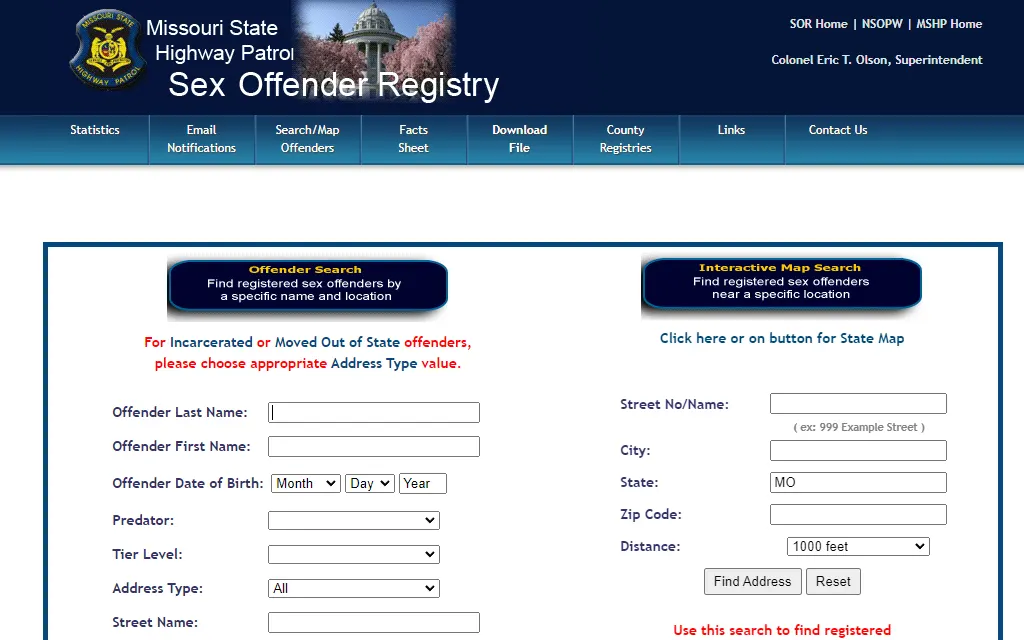 In Missouri, juvenile criminal records are not accessible to the public. Mo.Rev.Stat. § 211.321 states that juvenile court records cannot be accessed by the public except by court order.2 The exception to this is court cases where juveniles have been convicted of a felony or are in extreme court proceedings, like murder. Juvenile criminal records in Missouri are typically automatically expunged or sealed.
How Do I Find a Sex Offender in Missouri?
An individual that that has been tried and convicted of a sex offense is known as a sex offender. It is imperative that the community is aware of a sex offender's location within a community, workplace or educational facility for the safety of its members.
Statistics from the U.S Department of Justice show that 1 in 4 women as well 1 in 6 men will have a sexual assault experience and that 67% of sexual assault victims are minors under the age of 18.
Therefore, to ensure the well-being of its citizens, Missouri passed MO Rev Stat § 589.400 – 589.425, which mandates the Missouri State Highway Patrol to provide a public database of sex offenders in the state.3
The MSHP's Missouri sex offender registry provides a platform for the public to locate sex offenders within their community.10 It also allows users to sign up for email notifications to receive alerts when an offender moves into a community using two criteria: offender or address. Individuals may also contact local law enforcement agencies to ascertain this information.
The MSHP now also provides a toll-free number: (888)-767-6747 to broadcast sex offender data.
Look at Missouri Background Checks
A Missouri background check is a search that investigates the past information on an individual in Missouri, producing a myriad of data.
Name-Based or Personal Identifier
This search will return results on the subject's records such as convictions, arrest data, any pending charges that are awaiting disposition, and data pointing to a subject's suspended imposition of a sentence (SIS) during probation. This request costs $15 and can be mailed-this method requires the completion of a "Request for Criminal Record Check Form".  This type of search is considered a 'possible match' and includes open records.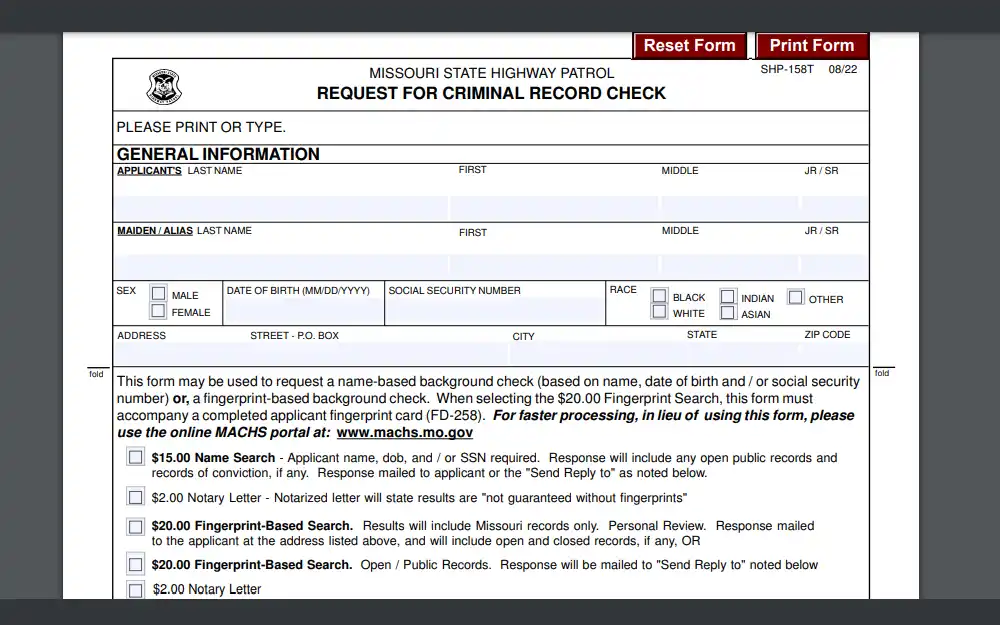 Requests may be completed online via the Missouri Automated Criminal History Site the charges are also $15, not including a service fee, to be paid via credit card.
Fingerprint Search
The fingerprint search is considered a 'positive match'- providing complete records and will return information such as charges that have been dismissed or not found guilty, criminal history, and any SIS after probation. The requester will need to schedule an appointment with IDEMIA (fingerprint services vendor) to capture the prints at a cost of $8.50. The total cost for the check will be $28.50 ($20 for a state-only check). The federal check will incur an additional $13.25 to make a grand total of $41.75 per applicant.
The processing time for mail-in requests is typically 4-6 weeks. Payments must be made via check or money order payable to the 'The State of Missouri Criminal Record System Fund'. Notarized responses incur an additional $2 charge. The processing time for finger-based charges completed online is 7-10 business days; the results are mailed to the requester.
Individuals looking for FBI Record Checks or Missouri Family Care Registry Checks may visit Criminal Justice Information Services (CJIS) and Family Care Safety Registry respectively.
In 1970, Congress passed the Fair Credit Reporting Act (FCRA) to ensure the accuracy as well as privacy of background checks performed by consumer reporting agencies.4
An assorted number of entities would require background checks to be completed on them, namely: renters, EMS personnel, and caregivers (particularly those working with children, seniors, and the disabled).
Missouri Court Records Look up Guide
Missouri court records are public records; they are accessible by any requester attempting to obtain data on court proceedings. This is due to the state's Sunshine Act which permits access to public records.
The accessibility to the public records does not cover all court records. Some records may be sealed or expunged by a court as stipulated by Mo.Rev.Stat. § 211.321.5 These include juvenile records, which are exempted by the statute and can only be accessed by court orders.
The Mississippi court system comprises 3 appellate courts and 46 judicial circuits; each county has a court. The Missouri Supreme Court is the highest court in the state overseeing the lower courts. It usually handles the major cases in the state and is also the last resort court (arbitrating the lower court's decisions). The Missouri Court of Appeals handles appeals from the decisions handed by the lower courts and is just below the Supreme Court in the hierarchy.
How to Find & Obtain Missouri Court Records
Online
Missouri has a repository for court records in the state known as Casenet. This database system allows users to retrieve court records as well as track ongoing cases via 'Track This Case'. Public users who are not registered use their email address to access the system and may also receive text notifications if they choose to do so (they will need to furnish their cell phone number).
'Track This Case' may not provide data if Casenet is down or a court record becomes private. Casenet captures information such as case number, date of filing, etc. to retrieve case records within the state's court systems and users incur no charge for its use.
Offline
To obtain both court records copies, individuals may do so in person or by mail and furnish information such as case number if known, document description, style of the case, and the fees-the charge are $0.3 per copy for record production.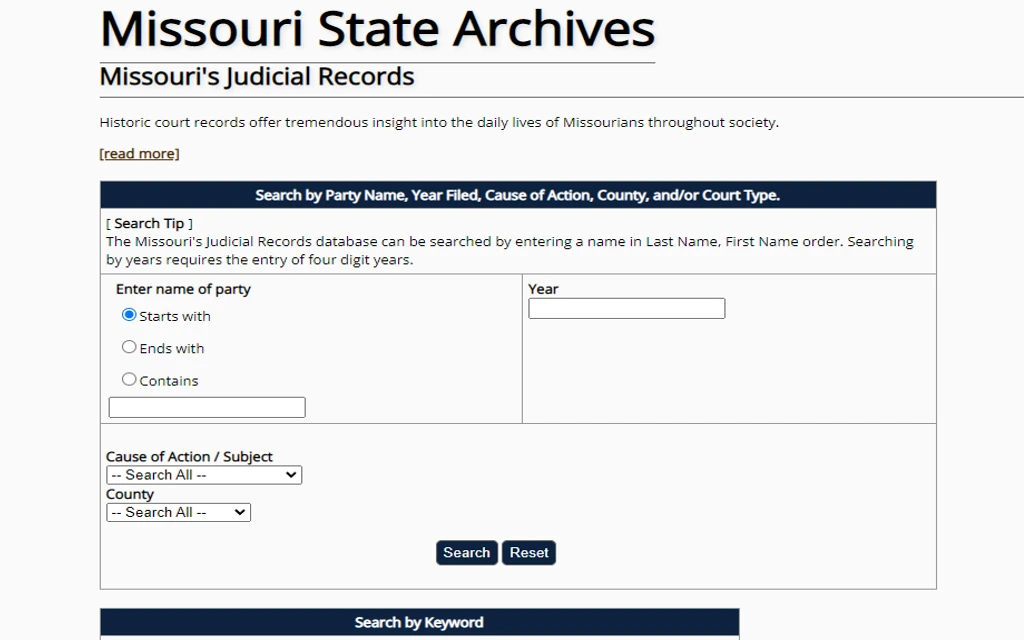 Requests can be mailed to either:
Department of Civil Records
Copy Desk
415 East 12th Street, Room 305
Kansas City, Missouri 64106 
Department of Civil Records
Copy Desk
308 West Kansas, Suite 107
Independence, Missouri 64050
Older cases can be retrieved from the Missouri State Archives.12
Where Can I Find Bankruptcy Cases Filed in Missouri
Bankruptcy cases in Missouri are legal proceedings where individuals can terminate debt. Individuals file for bankruptcy in accordance with the U.S. Bankruptcy Code.6
In Missouri, bankruptcy records may be retrieved by employing the Public Access to Court Electronic Records (PACER) which has a PACER case locator tool that allows individuals to retrieve and view bankruptcy records in the state. Requesters will need to register with the site and access bankruptcy case records at a cost of $0.1 per page.
Bankruptcy records can also be obtained from the office of the clerk of the bankruptcy court with jurisdiction of the case where the trial was held.
Requesters for bankruptcy records may obtain records from the Multi-Court Voice Case Information System (McVCIS) by dialing toll-free (866)-222-8029.
Older Bankruptcy cases dated before 2001 can be retrieved from the National Archives.
Missouri Inmate Records & Locating Detainees
Missouri inmate records provide details of offenders housed in the state's correctional facilities; either in jails or prisons.  Finding inmates is crucial for many, especially those desperately trying to locate missing family or friends. Equipped with this information, individuals may also visit or send money to inmates incarcerated by the MDOC.
Missouri inmate records are public records in line with the state's Sunshine Law. As per the MDOC, there were a total of 54,497 inmates, parolees, and probationers. Of these, 61.23% were in the state, county jails, and CWC facilities. Regional facilities accounted for 25.47%.
How Do I Find Someone in a Missouri Jail? Or Someone Who Was Arrested?
Interested persons looking to find out if someone is in a Missouri jail would first have to establish what county or city the offender has been arrested. Having knowledge of the names of the offender would be of importance as well. Requesters will need to commence their search at local police departments or sheriff's offices.
These departments may have search features, as in the case of St. Louis, which has a Locate a St. Louis City Inmate tool on its site. This tool locates offenders who are in custody and is free to use.
Requesters may physically visit or phone agencies that don't have a search feature online. These maintain websites that can be combed to obtain contact information. Requesters may also obtain copies of jail paperwork when they make an in-person visit.
Find Missouri Prison Records & Inmates (State and Federal)
Requesters looking to locate prison records and inmates will need to visit the Missouri State Department of Corrections (MDOC) for state inmates and the Federal Bureau of Prisons (BOP) for federal inmates.
State Search
The Missouri Department of Corrections (MDOC) is the repository of criminal records in the state and manages state prisons in Missouri. The best way to locate a state prison inmate would be to utilize the Search Offender tool located on the MDOC website. This system captures the Department of Corrections (DOC ID) or full names of the offender.
The service is free to the public, and no account is required to register.
To locate individuals who are on parole, requesters may use the Parole Search tool located on the MDOC site.
Federal Search
There is one federal prison located in the state of Missouri and is maintained by the Bureau of Prisons (BOP). The BOP maintains a database of inmates that have been incarcerated or released after 1982 in federal prisons throughout the union. It has a Federal Prison Inmate Locator on its website that is free to use, and the requester searches either using name or inmate number.
MO Vital Records: Free Marriage Records in Missouri
Vital Records are records of life events of persons maintained by government authorities. In the state of Missouri, they include:
Birth records
Death records
Marriage records
Divorce records
There are two types of copies of vital records; certified and uncertified. Certified copies are official and usually bear a government seal and may be used as identification. Uncertified copies cannot be used as identification and often do not have a government seal.
Additionally, marriage and divorce rates are made public by the US Census Bureau and the image below shows the percentage of divorced individuals in every Missouri county.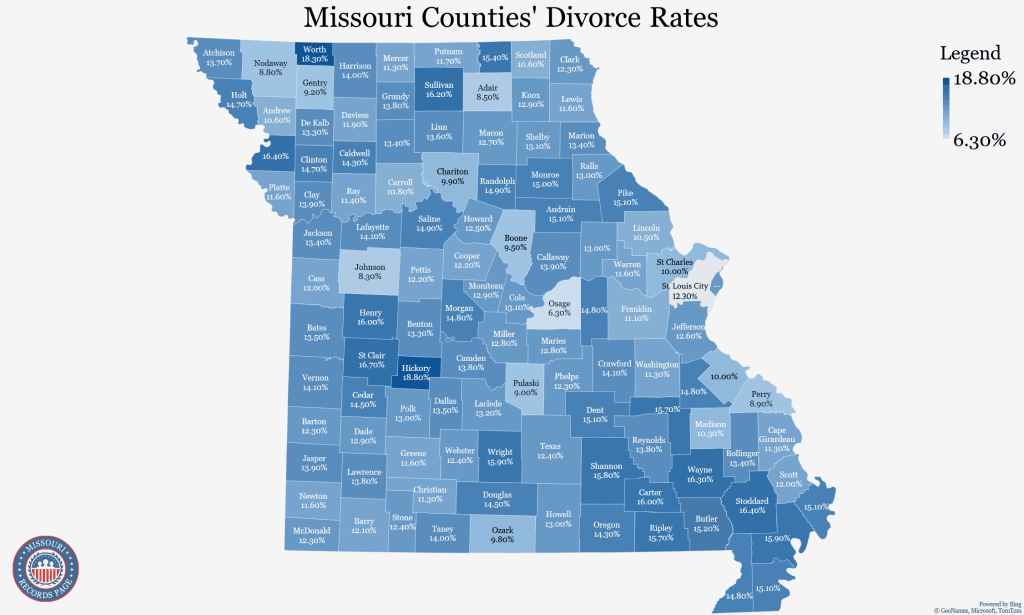 Vital records in the state of Missouri are stored by the Missouri Department of Health and Senior Service.
Are Birth, Death, Marriage & Free Divorce Records in Missouri Part of Public Record?
Missouri vital records are not entirely public records- Missouri Uniform Vital Statistics Law prohibits access to these records to only specified individuals.8 Only individuals that are party to the record, like the record holder (the subject of the record) or a family member may have access to a vital record. For example, a family member will have access to the death record of a deceased individual. This is in order to protect the privacy of citizens and ensure data integrity.
How to Obtain Certificates from Missouri Bureau of Vital Records
Vital records are maintained by the MDHSS and are retrieved from the Bureau of Vital Statistics in Jefferson City. They may also be retrieved from the county level. Individuals requesting these records will need to furnish the following information to the MDHSS:
Full name on the record
Date of the record, e.g. DOB
Location of the record, e.g. locale of birth
Father and mother's name, including maiden name
Purpose of the request
Relationship to the record holder if applicable
Contact information
Birth Certificates and Death Certificates
Birth certificates and death certificates are available to owners of the record. They may be requested at the county level in which the birth or death occurred; an online directory of the counties is here.
Records on Missouri deaths are drawn from death certificates and are filed with the MDHSS as mandated by law.7
Requesters would need to download the application form, ascertain the fees, and then proceed to either mail, schedule an appointment at the Bureau of Vital Records in Jefferson City or visit the local public health agency.
Fees for birth records are $15 a copy and $15 for additional copies. Death Record fees are $14 per record and $11 for each additional copy.
An in-person visit to the Jefferson City Vital Records Office
Appointments can be scheduled by dialing (573)-751-6387 in a time slot of between 1000 and 1500.
Mailed applications should include a self-addressed envelope sent to:
Missouri Department of Health and Senior Services – Bureau of Vital Records
930 Wildwood Drive
Jefferson City, Missouri 65109
Death records may also be queried from the archives.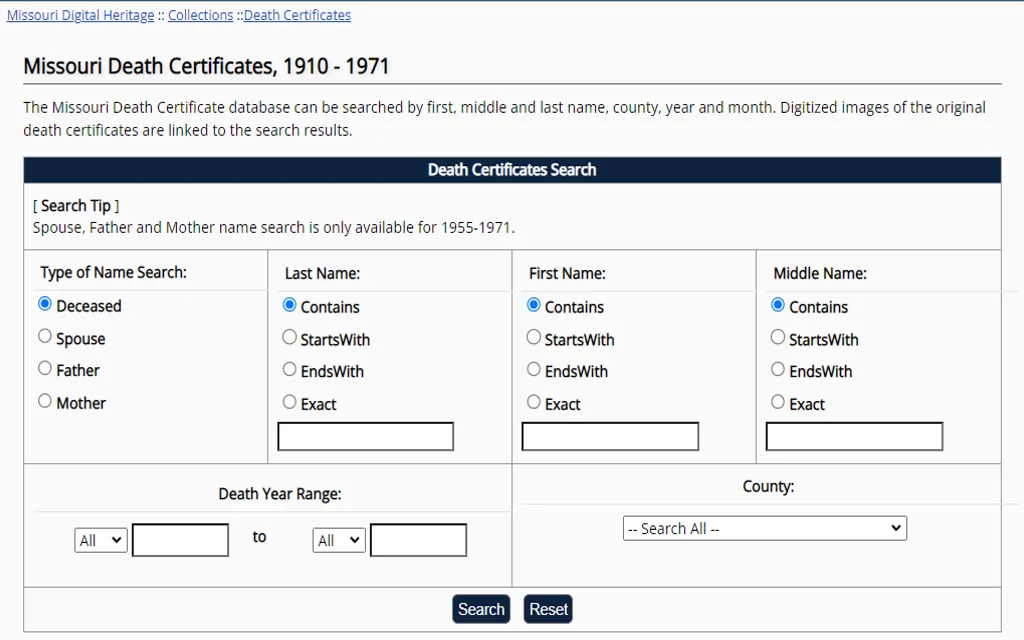 Marriage Certificates and Death Certificates
In Missouri, there are two marriage documents available: that is a marriage statement and a marriage certificate. A marriage statement issued by the MDHSS displays the names of the spouses, date of marriage, and county recording. A copy of the certificate can only be obtained from the Recorder of Deeds in the county where the marriage was recorded. The process for requesting copies of the documents will be similar to the birth and death certificates.
Like in marriage documents, there is a death statement and certificate. The statement may be obtained from the MDHSS. The certificate will be requested from the Circuit Clerk in the county where the divorce was recorded. The fees and process are similar to those outlined in the section above.
Sifting through Missouri public records can prove to be cumbersome and complicated; our site provides an excellent platform to execute a seamless search for required records.
1Congress, U. S. (1970, October 26). Fair Credit Reporting Act. Retrieved 2022, from Federal Trade Commission: <https://www.ftc.gov/legal-library/browse/statutes/fair-credit-reporting-act>
2Legislature, M. (1973). Missouri Legislature. Retrieved 2022, from Missouri Legislature: <http://revisor.mo.gov/main/ViewChapter.aspx?chapter=610>
3Legislature, M. (2004, August 28). Revised Statutes of Missouri. Retrieved 2022, from Revised Statutes of Missouri: <https://revisor.mo.gov/main/OneSection.aspx?section=193.245&bid=9925&hl=>
4Legislature, M. (2017, 01 01). Revised Statutes of Missouri. Retrieved 2022, from Revised Statutes of Missouri: <https://revisor.mo.gov/main/OneSection.aspx?section=589.425#:~:text=2.-,A%20person%20commits%20the%20crime%20of%20failing%20to%20register%20as,register%20as%20a%20sex%20offender.>
5Legislature, M. (2019, August 28). Revised Statutes of Missouri. Retrieved 2022, from Revised Statutes of Missouri: <https://revisor.mo.gov/main/OneSection.aspx?section=193.015>
6Legislature, M. (2020, 01 01). Revised Statutes of Missouri. Retrieved 2022, from Revised Statutes of Missouri: <https://revisor.mo.gov/main/OneSection.aspx?section=211.321>
7Legislature, M. (2021, 01 01). Revised Statutes of Missouri. Retrieved 2022, from Revised Statutes of Missouri: <https://revisor.mo.gov/main/OneSection.aspx?section=211.321&bid=11531&hl=>
8Representatives, U. H. (2005, April 20). Retrieved from Office of the Law Revision Counsel: <https://uscode.house.gov/view.xhtml?path=/prelim@title11&edition=prelim>
9City of Springfield, Missouri. (2023). Municipal Warrants. Retrieved June 2, 2023, from <https://www.springfieldmo.gov/1701/Municipal-Warrants>
10Missouri State Highway Patrol. (2023). Sex Offender Registry. Retrieved June 2, 2023, from <https://www.mshp.dps.missouri.gov/CJ38/searchRegistry.jsp>
11Missouri State Highway Patrol. (2022, August). Request for Criminal Record Check. Retrieved June 2, 2023, from <https://www.mshp.dps.missouri.gov/MSHPWeb/PatrolDivisions/CRID/documents/SHP-158T.pdf>
12Missouri Office of the Secretary of State. (2023). Missouri State Archives. Missouri's Judicial Records. Retrieved June 2, 2023, from <https://s1.sos.mo.gov/records/archives/archivesdb/judicialrecords/>
13Missouri Office of the Secretary of State. (2023). Missouri Death Certificates Search. Retrieved June 2, 2023, from <https://s1.sos.mo.gov/records/Archives/ArchivesMvc/DeathCertificates>