Run a free Missouri criminal record search now; check any and every MO county to see if a loved one is in jail, find out if someone has a criminal history, gain insight on employment eligibility, or if there are sexual predators nearby.
As stated in Mo. Rev. Stat. § 610.010.6, Missouri public records, which include criminal and arrest information, are defined as any document that is produced by a government agency, whether electronic or written.1 Therefore, these records are mostly available to the public and can be accessed directly from government sites.
However, accessing these records can prove tiresome since there are varying agencies to sort through depending on the county or jurisdiction, and each its own process. Missouri Records Page helps streamline this process by outlining the exact agencies, steps, forms, and other details, making the process more efficient.
Whether someone is looking for information on arrests, criminal history, parole, probation, warrants, background checks, state or federal prisoners, or the sex offender registry, this how-to guide serves as an all encompassing resource for Missouri arrest records and criminal history.
Public Availability of Criminal Records & Arrest Records in Missouri
The Freedom of Information Act (FOIA) mandates that public records including Missouri arrest records remain a public domain—this means that any person has the right to access federal agency records barring exemptions such as trade secrets and certain exclusion such as when there is an ongoing criminal investigation.2
In addition to the FOIA, the state of Missouri has a law that was passed in 1973 dubbed the Missouri Sunshine Law which was signed in the spirit of the FOIA and mirrors it—it mandates public government agencies to provide copies of criminal and arrest records to anyone who requests them without needing to have a reason to access such said records.3
While the state of Missouri is one of the best states in the union for ease of accessing records, there are some records that are exempt for public access such as juvenile records that have been sealed and/or expunged by the court.
In addition, there are certain background laws from federal entities such as Fair Credit Reporting Act (FCRA) and Equal Employment Opportunity Commission EEOC that prohibits discrimination and statutes that limit the information in criminal records that can be released.4
What the Difference Between Criminal Records vs Arrest Records in MO?
Missouri criminal records and arrest records are collectively known as rap sheets and are prepared by both state and local law enforcement agencies, courts and detention centers. Criminal records will contain information detailing a person's history of interaction with the law such as conviction records and arrest searches—these contain active arrest information such as date of arrests.
In essence, they will help requesters figure out how to find out if someone was arrested and the reason they were arrested. Below is a breakdown of information that shows up in each:
Missouri Criminal Records:
Last and first name
Date of Birth (DOB)
Age
Sex
Race
Addresses (former and present)
Conviction date
Release information
Mug shot (photograph)
Former arrest records
Disposition information
Missouri Arrest Records:
Full names
Date of Birth (DOB)
Age
Sex
Race
Booking (arrest) date
Arresting agency (country sheriffs, state police and police departments)
Details of arrest (DUI, drugs/marijuana, sex offender information)
Mug shot (photograph)
Probation data
Warrant data
Bond type & amount
How To See If Someone Was Arrested in Missouri (Find Missouri Arrest Records & Jail Inmates for Free)
Researching recent arrests in the state of Missouri is a relatively straightforward process and typically free of charge. Perhaps individuals may be looking for loved ones who are missing or are simply trying to locate someone—requesters can contact local police departments, sheriff's offices and local city jails to obtain this information.
This can be done online by clicking the links below which lead to each County Sheriff's office inmate lookup tool which also contains phone numbers which can allow those fishing for information to do it online, in person, or via phone.
Check Missouri County Sheriff's Office Sherriff's Offices Arrest Reports & Mugshots
County jails maintain websites that publish rosters of arrestees that allow interested persons to find recent and current arrests by looking up inmates by full names. Requesters may also visit or call local sheriff's offices or police departments when determining how to find out what someone was arrested for by performing an inmate search of Missouri arrest records.
Individuals who are placed into custody will have their photographs (mug shots) taken, and some states will allow the public to view this information—some states have however restricted this information due to scammers using these images. The state of Missouri does nevertheless allow the public access to mugshot databases that are part of Missouri criminal records.
There are a number of sheriff's offices and local police departments that maintain inmate rosters that display arrest reports such as Johnson County's Sheriff's Office Inmate Roster.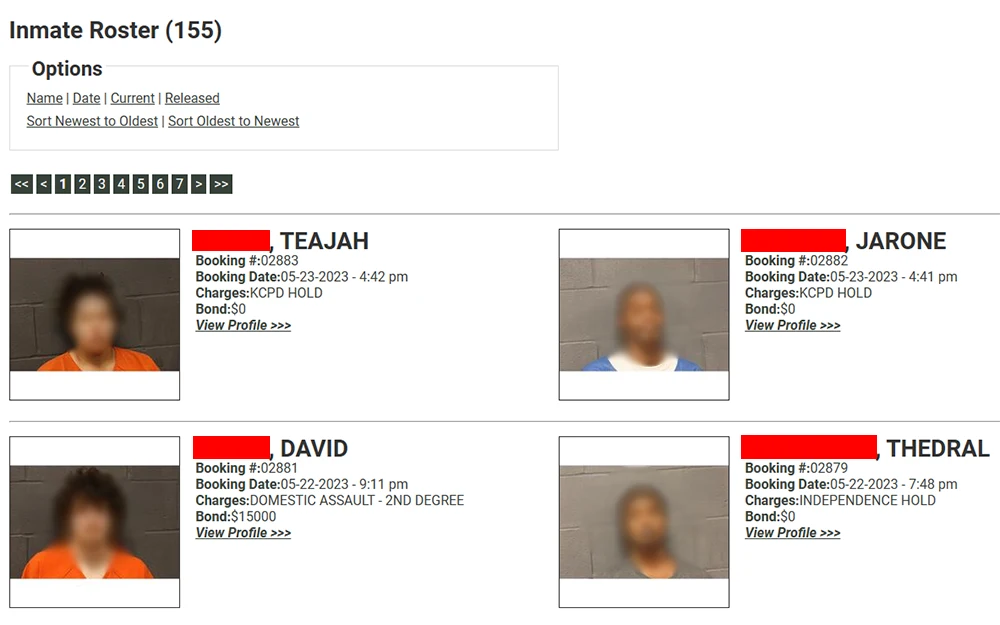 The table below gives contact information to perform a query for county arrest records for all 114 counties in the state, contact information and whether mug shots are viewable. This table is an efficient tool for interested individuals who are looking to know how to find out if someone is in jail in their respective county.
Links to the county will direct someone to the roster that the sheriff's office maintains to find out who's in jail. Some counties in this online directory and people finder may not have an inmate roster, in which case the link only points the sheriff's contact page and will have an (*).
How To Find Recent Arrests in Missouri's Local City Jails
Sometimes before proceeding to county jails, individuals can commence their search for Missouri arrest records in local city jails by either physically visiting them or visiting their websites if they do maintain an online presence. This type of search will typically occur in big cities such as St. Louis which maintains a Search inmate locator that can be used to determine daily arrests in the city.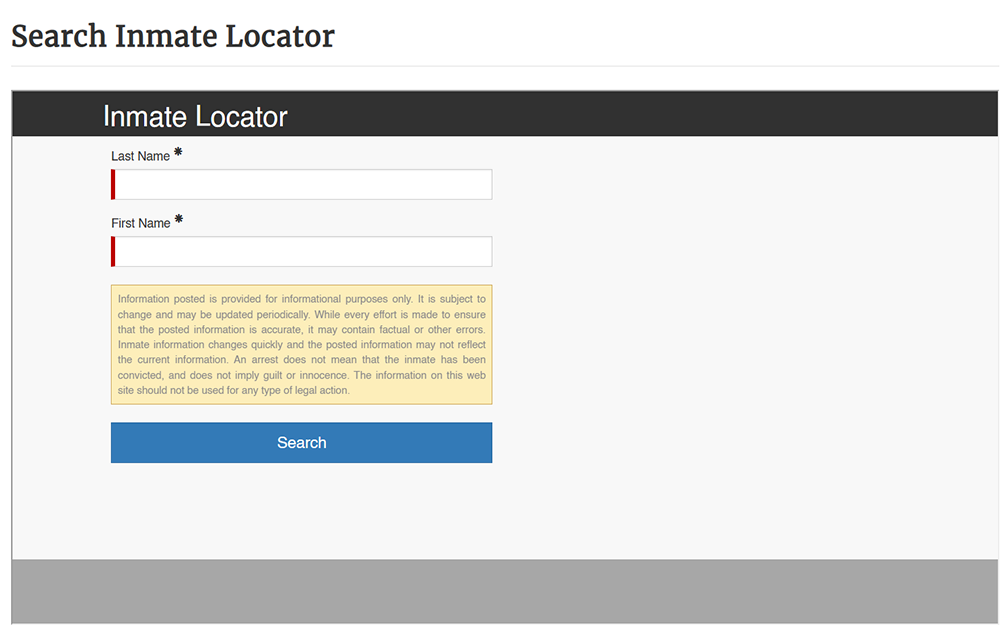 To find a local police department's inmate roster, use a search engine to search "[Name of City] Missouri arrest search." For example, if someone may have been arrested in St. Louis, someone would search for "St. Louis Missouri arrest search."
How Do You Contact Someone in a Missouri Jail & Bail Them Out?
Before contacting an inmate, they first must be located—a determination needs to be made where they are located; that is if they are in a local city jail, a county jail, state or federal prison. In addition to the aforementioned methods, more ways to accomplish this are delved in below.
Contacting an Inmate
Both the Missouri Department of Corrections (MDOC) and Missouri county jails allow inmates to be contacted via email and mail. Links to each Missouri county sherriff's office are seen in the table above and further details can be access through their web pages and contact details.
Loved ones who wish to send letters and photos are allowed to do so but should realize that all incoming mail is open and inspected. JPay is the contractor that provides email services to inmates. Mail that is sent to offenders should include:
Department of corrections (DOC) number
Full names of the offender
Address of facility holding the inmate
Return address of the sender
Bailing Out an Inmate Independently
Bailing out an inmate can either be done through paying the full amount to the court or eliciting the services of a bail bonds Missouri agent. Individuals who are able to pay the full amount can determine if the inmate is being held for either state or city charges by contacting:
Justice Center

: (314)-621-5848 for charges filed by city

Security Institution (Medium Security)

: (314)-389-4790 for state charges filed by the state.
They can then determine the bond amount by calling either (314)-622-3231 or (314)-641-8214 respectively by using the full names and DOB. It's important to check the hours and locations of each facility. 
Using a Bonds Agent
Bail bondsmen will generally write a surety bond to the court that guarantees the defendant will appear in court. In exchange, the defendant or someone representing the defendant will pay a 10% fee to the bondsman. Most bondsmen usually require half the amount paid up front and the remainder in installments.
Attorneys may help get bond amounts reduced to help defendants save money. It is therefore a good idea to enlist the help of one.
How To Look Up Criminal Records in Missouri (Steps To Find MO Criminal Records)
Finding criminal records in Missouri can be completed through the following agencies:
Through the Missouri Automated Criminal History Site (MACHS) which will be delved into below.
Using the Public Access to Court Electronic Records (PACER) system to access appellate court records and searching federal offenses.
By accessing the various county court portals that allow individuals to retrieve criminal records which is discussed in the next section.
Searchers may also visit the courthouse which have public access terminals.
Both court records and information about ongoing cases can be accessed. This service is free to use except in the case of the requester wanting a copy in which case they pay a nominal fee of $0.30 per copy.
Access Missouri Criminal Records Through County Courts
In addition to obtaining Missouri criminal records from local, state and federal law enforcement agencies, the courts also provide data on criminal records drawn from court proceedings due to the state's Sunshine Act which permits access to a public records repository.
It should be noted that not all court records can be accessed. There are some records that have been sealed and expunged by the courts as a result of Mo.Rev.Stat. § 211.321 such as juvenile records that are exempted from access due to the statutes except by court orders.7
The Missouri court system comprises 3 appellate courts and 46 judicial circuits—each county has a court with the Missouri Supreme Court being the highest court in the state overseeing the lower courts. It usually handles the major cases in the state and is also the last resort court (arbitrating the lower court's decisions). The Missouri Court of Appeals handles appeals from the decisions handed by the lower courts, and is just below the Supreme Court in hierarchy.
Table below summarizes how to access criminal records that are not recent and are located in the county courthouse records.
County circuit courts in the state of Missouri all use Casenet to search for court records in the respective courts—the links below point to the county court houses which typically have links to Casenet.8 Links that have an (*) do not have a Casenet link but interested individuals can still retrieve records for these counties using Casenet.
County Criminal Record Search
County Courthouse Address
Phone Number
Adair County
2815 North Baltimore
Kirksville, MO 63501
(660)665-2552
Andrew County
411 Jules Street
Saint Joseph, MO 64501
(816)324-3921
Atchison County*
400 S Washington St
Rock Port, MO 64482
(660)744-6214
Audrain County*
AUDRAIN COUNTY COURTHOUSE, 101 N JEFFERSON STREET
MEXICO, MO, 65265
(573)473-5841
Barry County
102 WEST STREET, SUITE 1
CASSVILLE, MO 65625
(417)847-3133
Barton County*
1004 Gulf Street RM 204
Lamar, Missouri 64759
(417)682-2444
Bates County*
1 N Delaware St
Butler, MO 64730
(660)679-5171
Benton County*
316 Van Buren St
Warsaw, MO 65355
(660)438-7712
Bollinger County*
204 High St # 5
Marble Hill, MO 63764
(573)238-1900
Boone County*
705 E Walnut St
Columbia, MO 65201
(573)886-4000
Buchanan County
411 Jules St
Saint Joseph, MO 64501
(816)271-1462
Butler County*
100 N Main Street
Poplar Bluff, MO 63901
(573)686-8082
Caldwell County
49 E Main St
Kingston, MO 64650
(816)586-2771
Callaway County*
Callaway County Court House, 10 E 5th St
Fulton, MO 65251
(573)642-0780
Camden County
1 Court Circle, Suite 8
Camdenton, MO 65020
(573)346-4440
Cape Girardeau County*
203 N High, Suite 129
Jackson, MO 63755
(573)243-1755
Carroll County*
8 S Main Street
Carrolton, MO 64633
(660)542-0615
Carter County*
105 Main Street
Van Buren, MO 63965
(573)323-4513
Cass County*
2501 W Mechanic St
Harrisonville, MO 64701
(816)380-8227
Cedar County*
113 South Street,
Stockton, MO 65785
(417)276-6700
Chariton County
306 S Cherry St
Keytesville, MO 65261
(660)288-3602
Christian County*
110 W. Elm, Room 202
Ozark, MO 65721
(417)582-5120
Clark County*
111 East Court Street, Suite 21
Kahoka, MO  63445
(660)727-3292
Clay County*
11 South Water Street
Liberty, MO 64068
(816)407-3900
Clinton County
CLINTON COUNTY COURTHOUSE, 207 N Main St
Plattsburg, MO 64477
(816)539-3731
Cole County*
301 E High St
Jefferson City, MO 65101
(573)634-9150
Cooper County*
200 Main St #31
Boonville, MO 65233
(660)882-5604
Crawford County*
111 3rd St
Steelville, MO 65565
(573)775-2149
Dade County*
300 W. Water Street
Greenfield, MO 65661
(417)637-2271
Dallas County*
108 S Maple St
Buffalo, MO 65622
(417)345-6822
Daviess County*
102 N Main St #6
Gallatin, MO 64640
(660)663-3300
DeKalb County*
109 W Main St
Maysville, MO 64469
(816)449-2602
Dent County
112 E. Fifth St.
Salem, MO 65560
(573)729-3931
Douglas County*
203 E Lincoln Ave
Ava, MO 65608
(417)683-4713
Dunklin County*
1175 Floyd Street
Kennett, MO 63857
(573)888-2456
Franklin County*
401 East Main St. Rm. 100A
Union, MO 63084
(636)583-7365
Gasconade County*
119 E 1st St
Hermann, MO 65041
(573)486-2632
Gentry County*
200 W Clay St
Albany, MO 64402
(660)726-3525
Greene County
1010 N Boonville Ave
Springfield, MO 65802
(417)868-4000
Grundy County*
700 Main St Courthouse
Trenton, MO 64683
(660)359-4040
Harrison County*
1500 Central St
Bethany, MO 64424
(660)425-6425
Henry County*
100 W Franklin St #3
Clinton, MO 64735
(660)885-7200
Hickory County*
100 West Polk Street
Hermitage , MO 65668
(417)745-6421
Holt County*
102 W Nodaway St
Oregon, MO 64473
(660)446-3301
Howard County *
1 Courthouse Sq #8
Fayette, MO 65248
(660)248-2194
Howell County*
106 Courthouse
West Plains, MO 65775
(417)256-3741
Iron County*
123 N Main St B
Ironton, MO 63650
(573)546-2511
Jackson County
415 E 12TH STREET
Kansas City, MO 64106
(816)881-3934
Jasper County*
601 Pearl Ave #300
Joplin, MO 64801
(417)625-4310
Jefferson County
300 Main St
Hillsboro, MO 63050
(636)797-5555
Johnson County*
101 W Market St
Warrensburg, MO 64093
(660)422-7413
Knox County*
107 N 4th
Edina, MO 63537
(660)397-2688
Laclede County*
200 N Adams Ave
Lebanon, MO 65536
(417)532-5471
Lafayette County*
116 S 10th St
Lexington, MO 64067
(660)259-6101
Lawrence County
240 North Main St, Suite 110
Mt Vernon, MO 65712
(417)466-2471
Lewis County*
100 E Lafayette St
Monticello, MO 63457
(573)767-5352
Lincoln County*
45 Business Park Dr.
Troy, MO 63379
(636)528-6300
Linn County*
108 N High St
Linneus, MO 64653
(660)895-5419
Livingston County*
700 Webster St
Chillicothe, MO 64601
(660)646-8000
Macon County
101 E Washington
Macon, MO  63552
(660)385-4631
Madison County*
1 Court Square
Fredericktown, MO 63645
(573)783-2176
Maries County*
211 4th St #2
Vienna, MO 65582
(573)422-3303
Marion County
906 Broadway # 201,
Hannibal, MO 63401
(573)221-0198
McDonald County
602 Main St,
Pineville, MO 64856
(417)223-7512
Mercer County*
802 E Main St,
Princeton, MO 64673
(660)748-4335
Miller County*
2001 MO-52,
Tuscumbia, MO 65082
(573)369-1980
Mississippi County*
200 N Main St,
Charleston, MO 63834
(573)683-2146
Moniteau County*
200 E Main St,
California, MO 65018
(573)796-4661
Monroe County*
300 North Main St # 201,
Paris, MO 65275
(877)433-3061
Montgomery County *
211 E 3rd St,
Montgomery City, MO 63361
(573)564-3341
Morgan County*
211 E Newton St # 4,
Versailles, MO 65084
(573)378-4413
New Madrid County*
450 Main St,
New Madrid, MO 63869
(573)748-2228
Newton County
123 E Main St,
Neosho, MO 64850
(417)451-8210
Nodaway County
305 N Main St,
Maryville, MO 64468
(660)582-4221
Oregon County*
1 Court Sq,
Alton, MO 65606
(417)778-7460
Osage County
106 E Main St,
Linn, MO 65051
(573)897-2497
Ozark County
1 Court Sq,
Gainesville, MO 65655
(417)679-4232
Pemiscot County*
610 Ward Ave,
Caruthersville, MO 63830
(573)333-2204
Perry County
15 W St Maries St #2,
Perryville, MO 63775
(573)547-6581
Pettis County*
415 S Ohio Ave,
Sedalia, MO 65301
(660)826-5000
Phelps County
200 N Main St,
Rolla, MO 65401
(573)458-6000
Pike County
115 W Main St #4,
Bowling Green, MO 63334
(573)324-2412
Platte County
328 Main St., Suite 5-CH
Platte City, MO 64079
(816)858-2232
Polk County*
102 E Broadway St,
Bolivar, MO 65613
(417)326-4912
Pulaski County*
301 U.S. Rt. 66,
Waynesville, MO 65583
(573)774-4701
Putnam County*
1601 Main St #101,
Unionville, MO 63565
(660)947-2117
Ralls County*
311 S Main St,
New London, MO 63459
(573)985-5641
Randolph County*
372 State Hwy JJ Suite 2b,
Huntsville, MO 65259
(844)277-6555
Ray County*
100 W Main St,
Richmond, MO 64085
(816)776-4502
Reynolds County*
2319 Green St,
Centerville, MO 63633
(573)648-2494
Ripley County*
100 Court House Square,
Doniphan, MO 63935
(573)996-5500
Saline County
19 E Arrow St #205,
Marshall, MO 65340
(660)886-2300
Schuyler County*
110 E Washington St,
Lancaster, MO 63548
(660)956-9187
Scotland County*
117 S Market St,
Memphis, MO 63555
(660)465-8605
Scott County*
131 S Winchester St,
Benton, MO 63736
(573)545-3549
Shannon County*
18529 Main St,
Eminence, MO 65466
(573)226-3414
Shelby County *
100 E Main St,
Shelbyville, MO 63469
(573)633-2151
St. Charles County
300 N 2nd St,
St Charles, MO 63301
(636)949-3080
St. Clair County
655 2nd St,
Osceola, MO 64776
(417)646-2315
St. Francois County*
1 N Washington St # 102,
Farmington, MO 63640
(573)756-5755
St. Louis County
41 South Central,
Clayton, MO 63105
(314)615-5000
St. Louis city County
105 S Central Ave,
Clayton, MO 63105
(314)615-8029
Ste. Genevieve County
55 3rd St #23, Ste.
Genevieve, MO 63670
(573)883-2705
Stoddard County*
401 S Prairie St,
Bloomfield, MO 63825
(573)568-3339
Stone County
110 S Maple St Ste F,
Galena, MO 65656
(417)357-6114
Sullivan County
109 N Main St #20,
Milan, MO 63556
(660)265-3303
Taney County
266 Main St,
Forsyth, MO 65653
(417)546-7200
Texas County*
519 N Grand Ave #202,
Houston, MO 654
(417)967-3742
Vernon County*
100 W Cherry St,
Nevada, MO 64772
(417)448-2520
Warren County
104 W Booneslick Rd,
Warrenton, MO 63383
(636)456-3363
Washington County*
102 N Missouri St,
Potosi, MO 63664
(573)438-6111
Wayne County
109 Walnut St,
Greenville, MO 63944
(573)224-3014
Webster County*
101 S Crittenden St,
Marshfield, MO 65706
(417)859-2006
Worth County*
23 W 3rd St,
Grant City, MO 64456
(660)564-2210
Wright County*
125 Court Square, 2nd Floor
Hartville, MO  65667
(417)741-7121
Run a Statewide Criminal Record Search in Missouri Through The Missouri Courts System (Casenet)
The state of Missouri has a statewide criminal records system that tracks court records from the different court systems in the state known as Casenet and cases can be searched using case numbers and / last names.
How To Get Copies of Criminal Records Through Missouri's Automated Criminal History Site (MACHS)
There are several methods that someone can use to retrieve copies of criminal records although copies are primarily retrieved from the main custodian of criminal history in Missouri — the Missouri Automated Criminal History Site (MACHS).9
This can also be performed by sifting through individual counties and looking for records in the courts. The MACHS site allows a user to search for a criminal:
Using fingerprints
Using full names of the arrestee
Finger Print Based
The fingerprint search is considered a positive match and supplies information such as criminal history, charges that may have been dismissed and any SIS (suspended imposed sentence) after probation.
To find criminals using fingerprints, interested individuals will need to register at the MACHS Fingerprint Search Portal. This site allows only those who have a registration number with their employer and/or licensing agency to perform this check.
Those looking to perform a self-search for personal review will need to contact the office at (573)-526-6153 and hit option 3 to receive further instructions.
The requester will need to schedule an appointment with IDEMIA (fingerprint services vendor) to capture the prints at a cost of $8.50. The total cost for the check will be $28.50 ($20 for a state only check). The federal check will incur an additional $13.25 to make a grand total of $41.75 per applicant. Payments can be made through a check or money order to the "State of Missouri – Criminal Record System Fund." Notarized responses will incur an additional $2 fee.
The processing time for mail in requests is typically 4-6 weeks while online requests are completed within 7-10 business days; the results are mailed to the requester.
Individuals looking for FBI Record Checks or Missouri Family Care Registry Checks may visit Criminal Justice Information Services (CJIS) and Family Care Safety Registry respectively.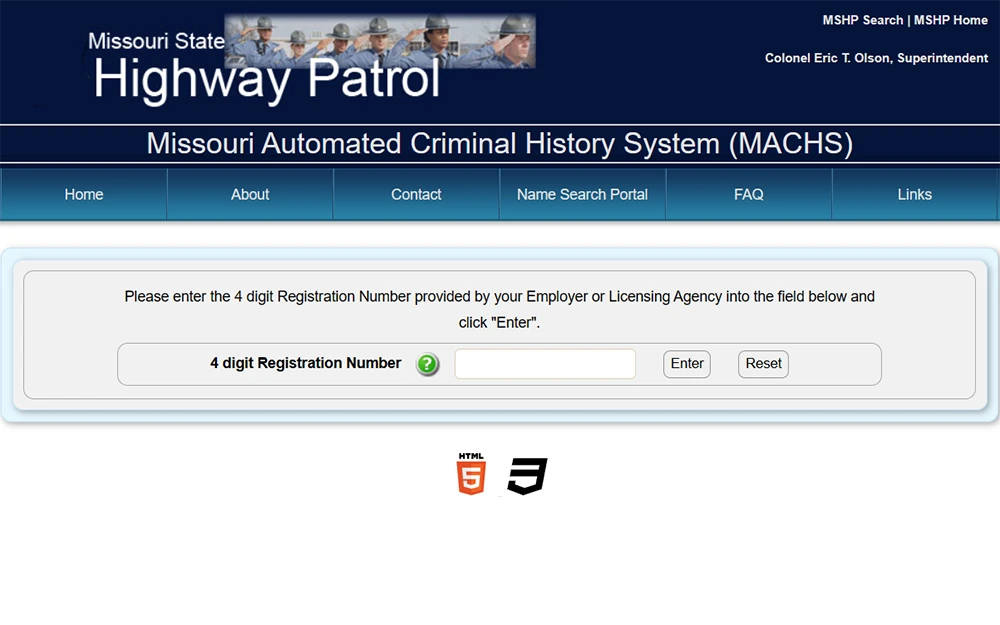 Mail in requests should be sent to:
Missouri State Highway Patrol,
CJIS Division, P.O. Box 9500,
Jefferson City, MO 65102-9500
Named Based
The named based search is considered a possible match and includes only open records and returns information such as convictions, arrest information less than 30 days from the arrest date ideal for those wanting to know how to find recent arrests.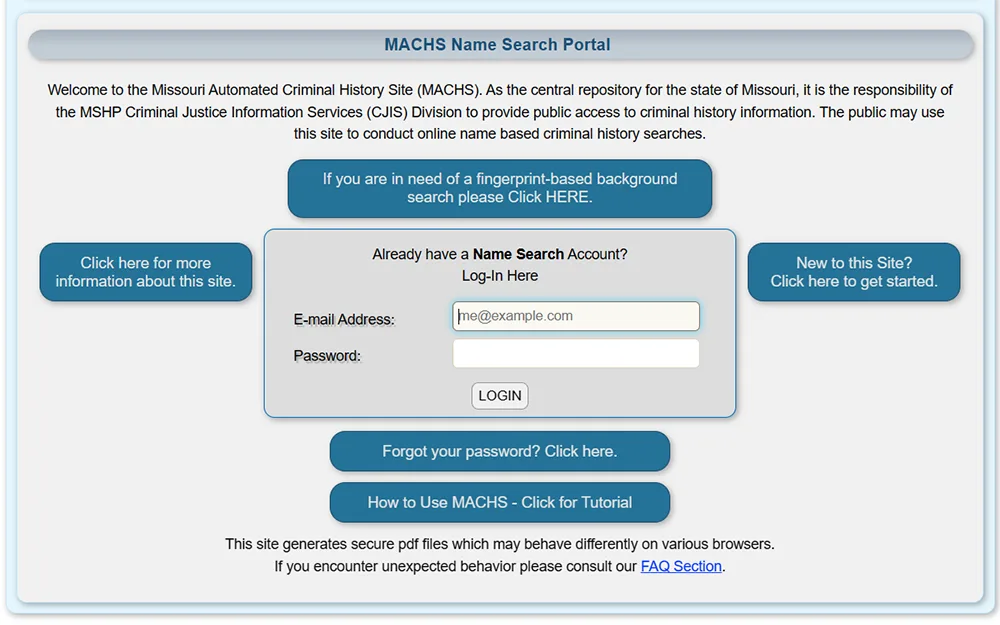 It also contains SIS after probation is completed and charges that have been filed by a prosecutor and awaiting final disposition from the courts.
Interested individuals can complete this request by mail which requires the completion of a Request for Criminal Record Check Form and charges are $15.
They can also complete the requests online by visiting Missouri Automated Criminal History Site and payments can be made via credit card for $15.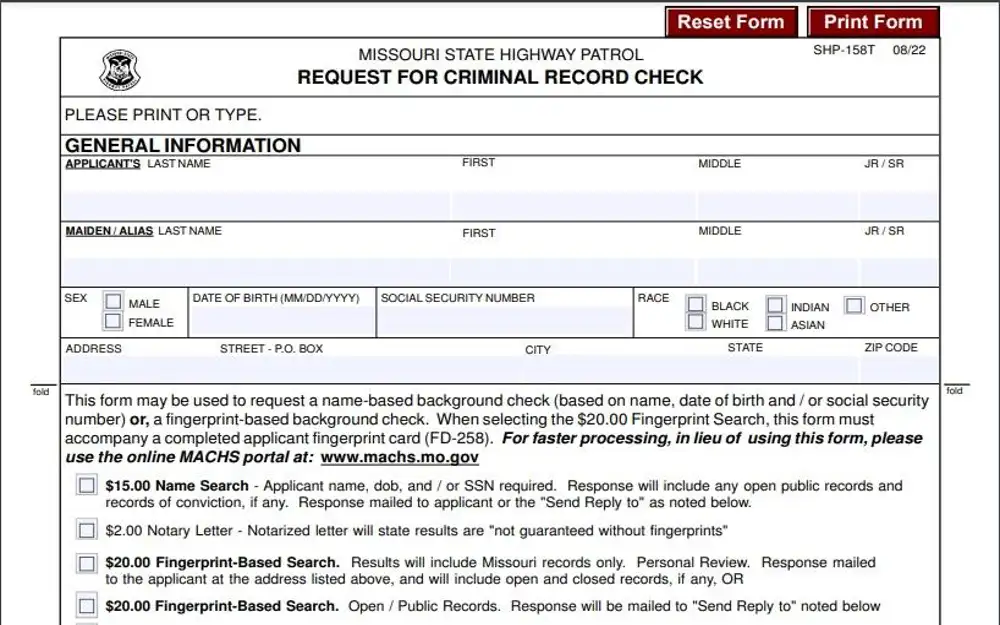 Applicants residing outside the state will need to contact their local law enforcement agency.
How Do I Find Out if Someone Is on Probation or Parole in Missouri (MO)?
Missouri does not maintain a parolee database that allows for an automated search feature to locate individuals who are on probation or parole but the Division of Probation and Parole can be contacted to establish if someone is either on probation or parole.13
Parole is a term that refers to offenders who have now been released from the correctional system after having served time in prison. Probation on the other hand typically refers to a release from jail.
To illustrate just how many people are on probation and parole, the following image shows the combined total of probationers and parolees in Missouri, along with their ethnicities. Furthermore, these totals are also compared to the number of individuals on community supervision (including probation and parole) in other states across the United States.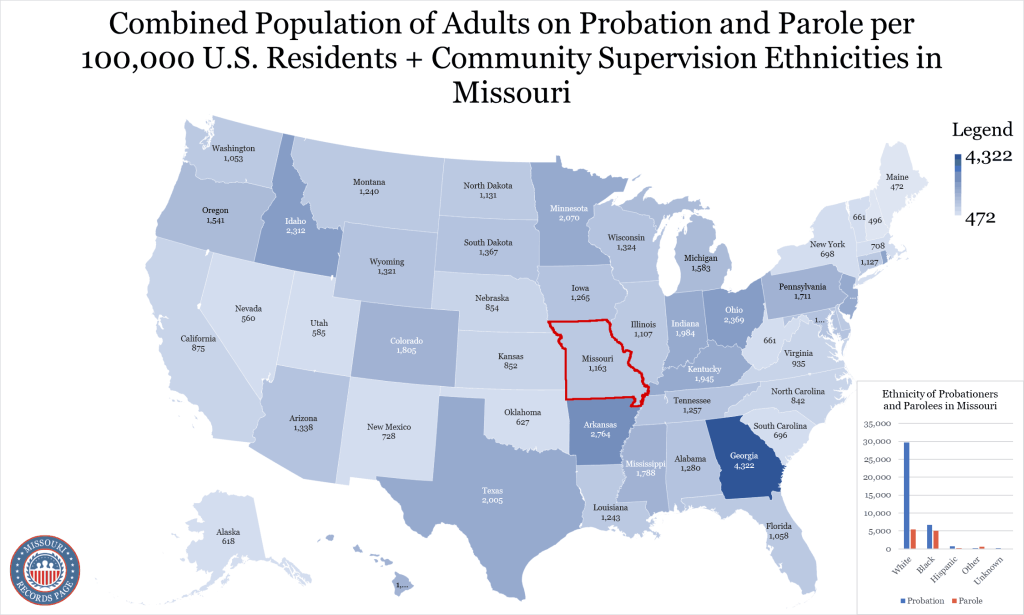 When contacting the division to ascertain parole information of someone and/ or perform a probation search, interested individuals must furnish the following data:
Offender's full names
Offender's inmate number, if known
Offender's DOB and SSN (Social Security Number), if known
Requesters may contact the division either by phone at (573)751-8488 or via email at [email protected].
How Do You Seal or Expunge Criminal Records in the State of Missouri?
Under Missouri's expungement law, individuals with certain criminal records may elect to have their offenses sealed and expunged through the courts.14 Expungement is the deletion of criminal records of an arrest or charge that occurred while records that are sealed are not accessible except by court order, but they still exist physically and legally.
Individuals can only apply to have their records expunged when:
Fines have been paid off
Completion of probation and/or parole
Having a three year clean date for eligibility for a felony offense expungement
Having a one year wait for misdemeanor offense
To initiate the process to seal and/or expunge a criminal record in the state, requesters should:
File a petition at the court in the county where the offender was found guilty and charged by downloading the expungement petition. The cost for this is $250, however the cost can be waived by the judge if the petitioner can prove they are unable to bear the cost.
The petition will name defendants of any entities or individuals that are holding these records of offenses and violations who are then served.
Defendants will then have 30 days to file any objections they may have to the expungement petition.
The court will then hold a hearing within 60 days of any objections made by the defendant or 30 days after defendants have been served with no objections.
Once the court approves the petition, the petitioner can now maintain that they have not been convicted of a crime. However, certain applications still necessitate disclosing these records such as when applying for a license, certificate and permit issued by the state for the individual's profession.
If the expungement is denied, the petitioner could re-file within a year or appeal the decision of denial.
More than one expungement can be granted provided the number does not exceed 1 felony offense, 2 misdemeanors or ordinance violations that have led to imprisonment.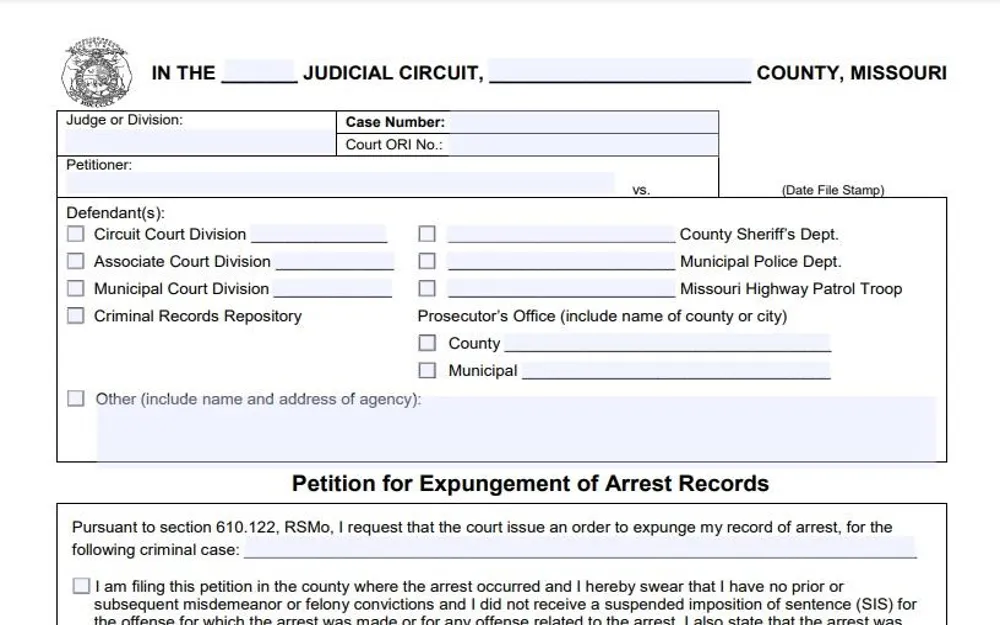 It should be stated however, that there are certain offenses that are not eligible for expungement such as:
Class A felonies
Offenses that require registration of a sex offender
Felonies where death is the element of the offense
Crimes that involve domestic assault and/or kidnapping
Petitioners are generally advised to retain the services of legal counsel when completing this process, although it is possible for individuals to perform a self-petition.
How Do I Find Someone in Federal Prison vs State Prisons in the State of Missouri?
Locating a loved one or someone who may be presumed missing in the state of Missouri is a fairly straightforward process and is free as well for both federal and state prisons. Requesters looking to locate prison records and inmates will need to visit Missouri Department of Corrections (MDOC) for state inmates and Federal Bureau of Prisons (BOP) for federal inmates.
Federal Prison Search
Missouri has one federal prison located in the state that is maintained by the Federal Bureau of Prisons (BOP). The BOP maintains a database of inmates that have been incarcerated or released after 1982 in federal prisons throughout the union.
BOP has a Federal Prison Inmate Locator on its website which is free  to use, and the requester searches either using name or inmate number.16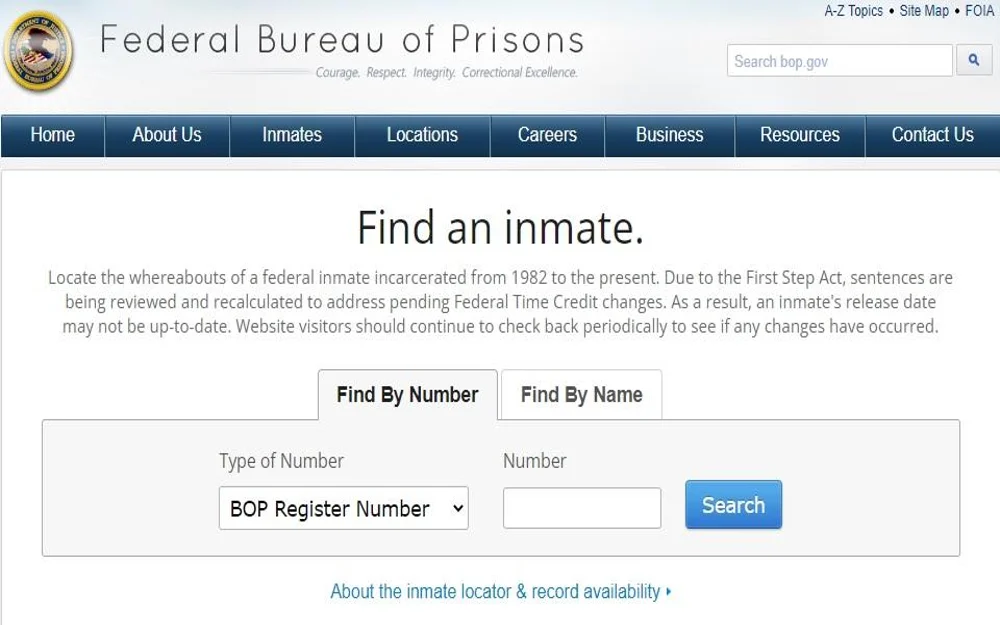 Missouri State Prison Search
The Missouri Department of Corrections (MDOC) is the repository of criminal records and felony registry in the state, and manages 21 state prisons in Missouri. The best way to locate a state prison inmate would be to utilize the Search Offender Tool located on the MDOC website which captures Department of Corrections (DOC ID) or full names of the offender.17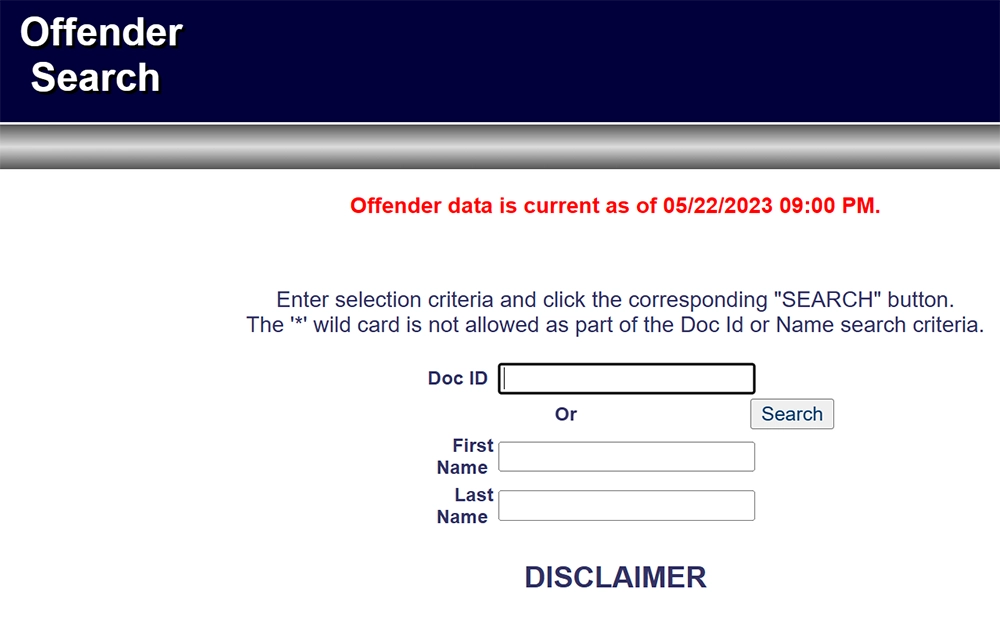 The service is free to the public to access and no account is required to register.
How To Run a Missouri Warrant Search (Figure Out if You or Someone Else Has a Warrant in MO)
Warrant information in the state of Missouri is public information and the first place requesters can find this information would be through the court system using Casenet.
Using Casenet:
To establish whether or not, you or someone else has an active warrant out for their arrest, proceed to Casenet to view the warrant list.
Under 'litigant name search', type the last name of the person of interest.
Once found, click on the case number
Proceed to the 'docket entries' tab to find warrants.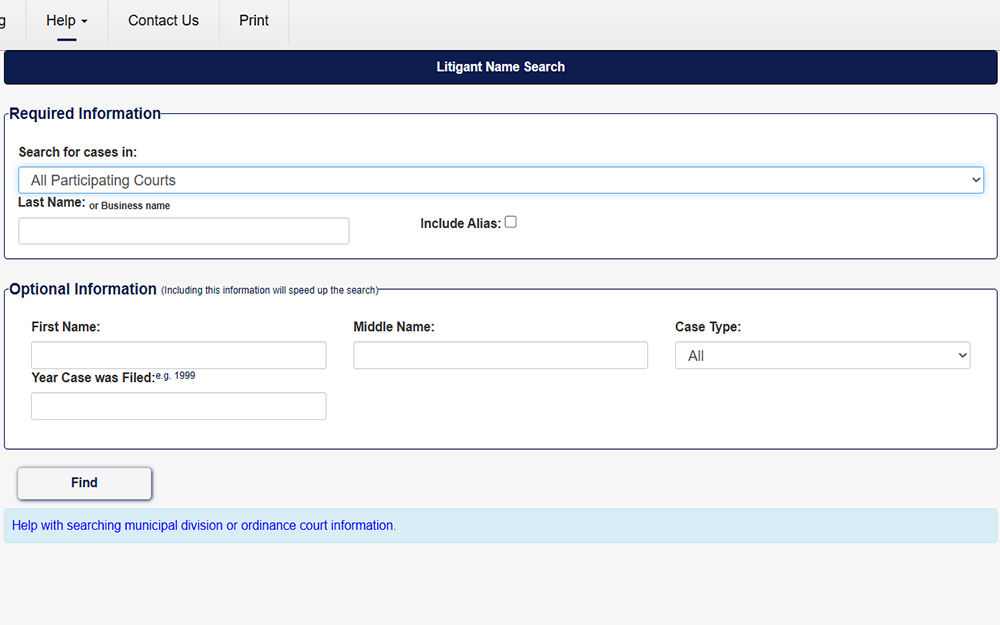 Interested individuals may also contact the sheriff's office or local law enforcement agencies who may have warrant departments. As an example, the Boone County Sheriff's Office has a list of active warrants.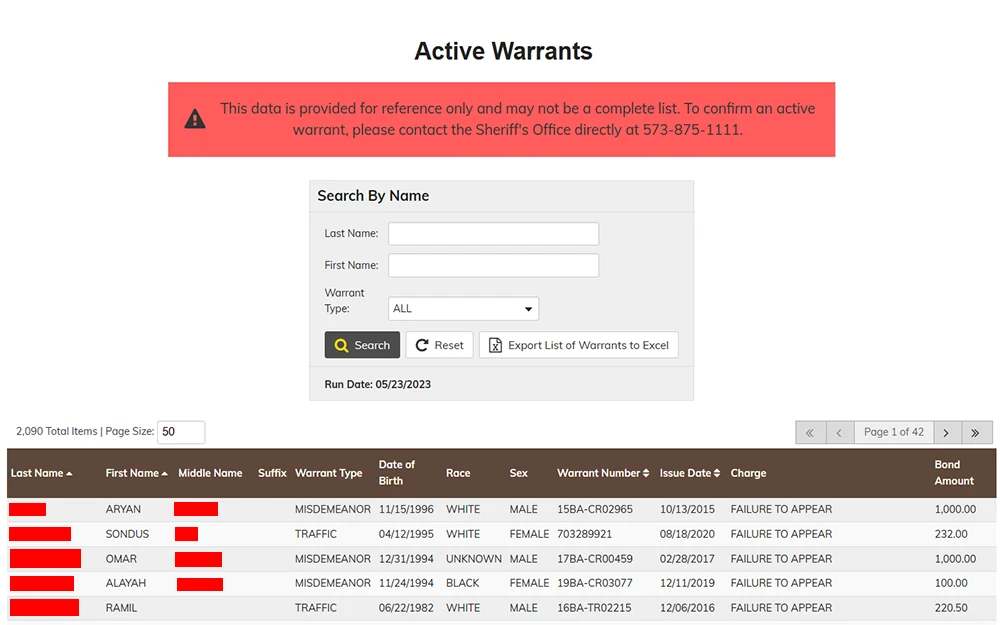 A Review of Missouri Background Checks
In summary, the Missouri State Highway Patrol performs background checks via name based and finger print bases searches through the Missouri Automated Criminal History System (MACHS).
Their fingerprint checks are used for firearms, employment, licensing and more. While their name searches may also be used by the general public.
There are several agencies in Missouri require background checks for certain professions such as caregivers to seniors and children and medical doctors. This is to ensure that these vulnerable elements of society to which these professionals are charged with custody do not succumb to negative misconduct where it be sexual or professional.
The table found below gives an overview of the agencies that require these checks, a link to the agencies' submission process, and the professions that are to submit to these checks:
Missouri Agency That Requires Background Check
Reasons for Background Check
Missouri Department of Elementary & Secondary Education

Administrators
Custodians
Cooks
Teachers
Aides
Paraprofessionals
Assistants
Secretaries
School bus drivers

Missouri Department of Health & Senior Services

Registered child care workers
Registered elder care workers
Personal care workers
Foster parents
Adoptions

Missouri Department of Social Services

Officers
Managers
Contractors
Volunteers
Employees
Support staff
Child care provider
Contract or self-employed persons
Volunteers that provide child care
Residents of a child care home who are over 18
Owners and operators of residential care facilities
Owners and operators of child care facilities

Missouri Division of Professional Registration

Certified public accountants
Public acupuncturist
Anesthesiologist assistants
Real estate appraisers
Assistant physicians
Architects
Athlete agents
Athletic trainers
Audiologists
Barbers
Behavior analysts
Professional boxers
Professional counselors
Chiropractors
Cosmetologist
Dentists
Dental hygienist
Dietitians
Drug distributors
Electrical contractors
Embalmers
Engineer interns
Engineers
Funeral directors
Geologists
Hearing instrument specialists
Interior designers
Land surveyors
Land surveyors-in-training
Landscape architects
Marital & family therapists
Martial arts
Massage therapists
Occupational therapists
Occupational therapy assistants
Optometrists
Perfusionists

Missouri Board of Pharmacy

Pharmacists
Pharmacy technicians

Missouri Board of Registration for the Healing Arts

Nurses
Medical doctors
Acupuncturists
Cosmetic laser providers
Physician assistants
Respiratory therapists
How To Find Sexual Predators in Missouri via the Sex Offender Registry
Sex offenders are individuals that have been tried and convicted of a sex offense and to ensure the well-being of its citizens, Missouri passed MO Rev Stat. § 589.400 – 589.425, which mandates the Missouri State Highway Patrol to provide a public database of sex offenders in the state and for sex offenders to register.20
The Missouri State Highway Patrol (MSHP) maintains the Missouri sex offender registry which provides a platform for the public to locate sex offenders within their community.21 It also allows users to sign up for email notifications to receive alerts when an offender moves into a community using two criteria: offender or address. Individuals may also contact local law enforcement agencies to ascertain this information.
To find out if there is a sex offender living in a community for free, interested individuals should simply proceed to MSHP's Missouri sex offender registry and use the offender's bio data such as full names or DOB if known.
However, the tool can also be used to retrieve sex offender data from a set distance from a known location which is accomplished by inputting an address.
It should be stated that in addition to this state registry, the federal government does also maintain a national database for sex offenders known as the National Sex Offender Registry which is furnished by the U.S Department of Justice.22 It uses similar search parameters.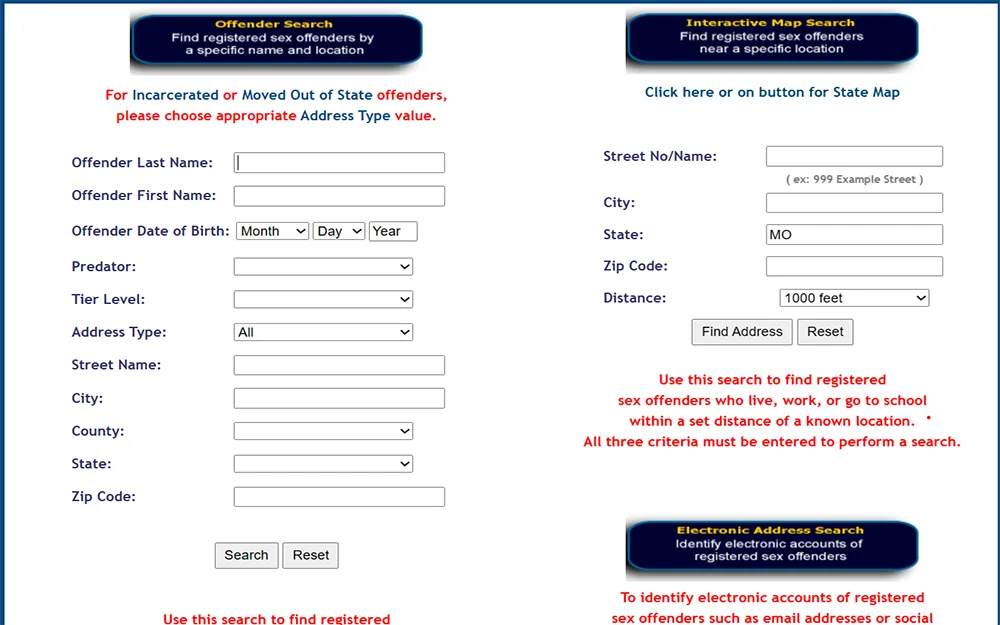 Missouri Laws Surrounding the Use of Criminal Records & Arrest Records
The State of Missouri makes public records a matter of public domain due to its Sunshine laws that are in the spirit of the Freedom for Information Act (FOIA). However, there are certain laws in the state that may limit the accessing of certain criminal and arrest records, or within certain time frames.
In addition to Missouri laws, members of the public in the state are protected by federal laws such as the anti-discrimination laws enforced by the Equal Employment Opportunity Commission (EEOC) and the Fair Credit Reporting Act (FCRA) which prohibits looking at non-convictions that are more than seven years old.
Juvenile records that involve misdemeanor offenses are generally sealed and kept private due to statute Mo.Rev.Stat. § 211.321.The exceptions to this are court cases where juveniles have been convicted of a felony or are in extreme court proceedings, like murder.
Not all crimes can be expunged and sealed as per Mo.Rev.Stat. §610.140.2 which include felonies that result in murder.24 Individuals that have sealed and expunged records are mandated in certain instances to disclose their criminal records that have been expunged and sealed in accordance with Mo.Rev.Stat. §610.140.9—these include when applying for license and permits pertaining to their profession.
Missouri does not have a ban the box law in place—however, certain cities in the state have passed the law including St. Louis, Kansas City and Columbia. Ban the box is a law pertaining to criminal background checks which prohibits employers from requesting potential employee's criminal background and history until after a conditional offer of employment. In this way, job applicants are first judged by their qualifications minus the stigma of a criminal past.
It is acceptable to perform personal criminal background checks without someone's consent but if they are being done for professional purposes such as employment, property management, licensing etc. then they must abide by federal and local laws.
To summarize the information above, Missouri criminal records can primarily be found through the County Courts or the Missouri Automated Criminal History Site (MACHS) hosted by the Missouri State Highway Patrol — other resources such as the Bureau of Prisons, Department of Corrections and Sex Offender Registry may provide results as well.
On the other hand, Missouri arrest records of various counties and cities can be obtained through arrest logs hosted by the County Sheriff's office and local Police Departments.
1Statutes, M. R. (2004, August 28). Title XXXIX CONDUCT OF PUBLIC BUSINESS. Retrieved 2023, from <https://revisor.mo.gov/main/OneSection.aspx?section=610.010>
2State, U. D. (2023). The Freedom of Information Act. Retrieved 2023, from <https://foia.state.gov/learn/foia.aspx>
3General, M. A. (2023). SUNSHINE LAW. Retrieved 2023, from <https://ago.mo.gov/missouri-law/sunshine-law>
4Commission, U. E. (2023). Overview. Retrieved 2023, from <https://www.eeoc.gov/overview>
5nmate Roster – Current Inmates Booking Date Descending – Johnson County Sheriff MO." Johnson County SHERIFF'S OFFICE. Accessed 30 April 2023. <https://jocomosheriff.org/roster.php>
6Locate a St. Louis City Inmate." City of St. Louis. Accessed 30 April 2023. <https://www.stlouis-mo.gov/government/departments/public-safety/corrections/stl-city-find-an-inmate.cfm>
7Assembly, M. G. (2021, January 1). Title XII PUBLIC HEALTH AND WELFARE. Retrieved 2023, from <https://revisor.mo.gov/main/OneSection.aspx?section=211.321>
8Government, M. C. (2023, February 22). Welcome to Case.net. Retrieved 2023, from <https://www.courts.mo.gov/cnet/welcome.do>
9Site, M. A. (2023). Welcome to the Missouri Automated Criminal History Site (MACHS). Retrieved 2023, from <https://www.machs.mo.gov/MACHSFP/home.html>
10Missouri Automated Criminal History Site. Accessed 30 April 2023. <https://www.machs.mo.gov/MACHSFP/form.html>
11SHP-158, Request for Criminal Record Check." Missouri State Highway Patrol. Accessed 30 April 2023. <http://mshp.dps.missouri.gov/MSHPWeb/PatrolDivisions/CRID/documents/SHP-158T.pdf>
12MACHS: Missouri Automated Criminal History Site." Machs.mo.gov. Accessed 30 April 2023. <https://machs.mo.gov/MocchWebInterface/home.html>
13Corrections, M. D. (2023). Probation and Parole. Retrieved 2023, from <https://doc.mo.gov/divisions/probation-parole>
14Statutes, M. R. (2021, August 28). Title XXXIX CONDUCT OF PUBLIC BUSINESS. Retrieved 2023, from <https://revisor.mo.gov/main/OneSection.aspx?section=610.140&bid=33573&hl=>
15Petition for Expungement of Arrest Records (CR145)." Missouri Courts. Accessed 30 April 2023. <https://www.courts.mo.gov/file.jsp?id=647>
16Prisons, F. B. (2023). Find an inmate. Retrieved 2023, from <https://web.mo.gov/doc/offSearchWeb/searchOffenderAction.do>
17Corrections, M. D. (2023). Offender Search. Retrieved 2023, from <https://web.mo.gov/doc/offSearchWeb/searchOffenderAction.do>
18Missouri Courts. Accessed 30 April 2023. <https://www.courts.mo.gov/cnet/nameSearch.do?newSearch=Y>
19Active Warrants. Boone County Sign On. Accessed 30 April 2023. <https://report.boonecountymo.org/mrcjava/servlet/RMS01_MP.I00040s>
20Statutes, M. R. (2017, January 1). Title XXXVIII CRIMES AND PUNISHMENT; PEACE OFFICERS AND PUBLIC DEFENDERS. Retrieved 2023, from <https://revisor.mo.gov/main/OneSection.aspx?section=589.425#:~:text=2.-,A%20person%20commits%20the%20crime%20of%20failing%20to%20register%20as,register%20as%20a%20sex%20offender>
21Patrol, M. S. (2023). Sex Offender Registry. Retrieved 2023, from <http://www.mshp.dps.mo.gov/CJ38/searchRegistry.jsp>
22Justice, U. D. (2023). National Sex Offender Public Website. Retrieved 2023, from <https://www.nsopw.gov/>
23Search Missouri Sex Offender Registry. Missouri State Highway Patrol. Accessed 30 April 2023. <https://www.mshp.dps.mo.gov/CJ38/searchRegistry.jsp>
24Statutes, M. R. (2019, August 28). Title XXXIX CONDUCT OF PUBLIC BUSINESS. Retrieved 2023, from <https://revisor.mo.gov/main/OneSection.aspx?section=610.140&bid=47676&hl>